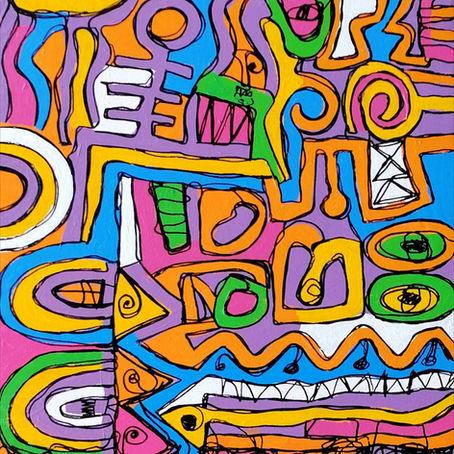 Abstract Affinities - Meet the artist behind the collection
"Abstract Affinities" is an exclusive Afrikanizm collection created by Nigerian artist Eghosa Akenbor.
The collection, which is an expression of human connections through colours and shapes, explores the profound message that we are all connected through lines that intersect and connect, just like the vibrant brushstrokes of colours and shapes in the artist's creations.
Today, we give you a little more insight into this talented artist's vision of this fantastic collection.
Who is Eghosa Akenbor?
An experimental painter from Nigeria that reside in Benin city, Edo state.
How do you define yourself as an artist?
A mixed media, experimental artist that keeps searching for ways to express that cultural poetry of beauty I see and feel in my African world.
Why this selection for Afrikanizm?
Because it's different from the works that are exhibited in Afrikanizm, another style of me.
Tell me about the inspiration behind these pieces.
The pieces are my intuitive and spontaneous use of lines, vivid colours, shapes and space to interact with my environment experience, imaginations and daily struggles.
How long did it take you to create the pieces in this collection?
I created the pieces in the space of 3 months.
Can you address any specific techniques or mediums you have used in creating these works?
I will like to talk about the paint marker used in the painting, it gave me so much freedom, relaxation to draw and sketch my imaginations, mistakes and African daily poetry.
How does this collection relate to your previous work or other pieces you have created?
They are highly related because of my use of vivid, raw hues, imaginary symbols, patterns highly influence by African world.
How do you expect viewers to respond to your collection?
I want my audience to feel, enjoy expression of human connections through colours, lines and shapes. Also, take them on a voyage of my colourful imaginations.
How does this collection reflect the current social and cultural context?
I live in a society where everything is amplified, talking about ways of life, tradition, religion, language, the weather, politics, fashion, music, social media etc. All this interact with one on daily basis. The art collections are reflections of all those cultural and social activities.
Are there any specific themes or messages you hope to convey through your art?
Positivity, beautiful thoughts/imaginations in mist of uncertainty, art is where I express my hope.
Are there any pieces in this collection that are particularly meaningful to you?
The Imagination 2, is a bit particularly to me because it is a combination of two of my style, I love the outcome.
Are you planning to create more works related to this collection?
Yes I am.
What can we expect from Future Eghosa?
More interesting experimental works of art spanning from painting to installation and three dimensional art.
Your Email Address Will Not Be Published. Required Fields Are Marked *